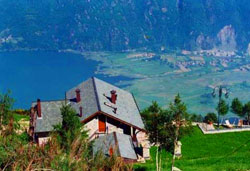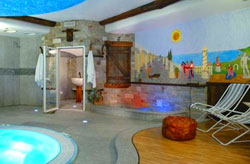 AGRITURISMO GIACOMINO
Responsable: Giacomino Rasero
Locality: Bedoi - Bugiallo frazione di Sorico (CO)
Tipology: Agritour - Farm Holiday
Position: Mountain, altitude mt 1100
Treatment: Booking - breakfast - Half board or complete
Accommodations: 11 rooms
Beds: 22
Opening: from March to November
Description and Services: The Farm Holiday is a nice place to relax in the midst of nature, tasting the various products of home and our home cooking. The picturesque location near a pine trees, in addition to offering beautiful backgrounds of the two lakes, Como and Mezzola, and Oasis, is also a good reference point perfect for birdwatching and hiking trails of varying difficulty in mountain biking with the presence of various natural springboards for hang gliding and paragliding. It is also possible to practice water sports such as surfing, canoeing and sailing, reaching Gera Lario, distant twenty minuti.Centro Wellness appointment; Magnificent room Turkish bath, Jacuzzi, Color therapy, Kneipp, to invigorate body and mind .














Sauna bath, wellness center, Jacuzzi, Table Tennis, Horse Riding, Route 10 stations of life immersed in nature., Surfing, Water Skiing, Games for children, Canoeing, Paragliding, Hang Gliding
Agriturismo Giacomino
Località Bedoi
22010 Sorico (CO) Via Fordeccia, 42
Tel e fax: (+39) 0344 84710
Cell.: (+39) 333 1313313
E-mail: fot to booking send us a E-mail to: prenotazioni@agriturismogiacomino.it
For informations, send us a E-mail to: info@agriturismogiacomino.it